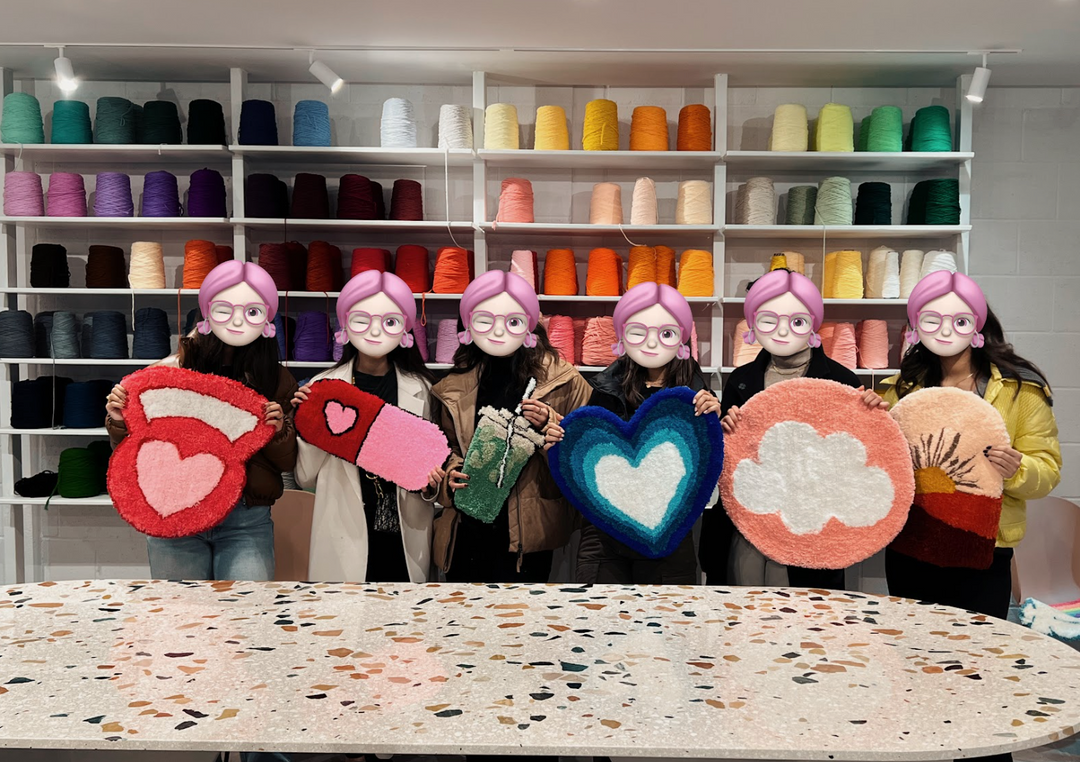 Posted on
---
4 TYPES OF TUFTERS IN OUR STUDIO


Lovers & Trendsetters - Teams who tuft together, stay together.

At our studio, we noticed a trend of couples or groups of friends creating rugs together. These makers are drawn to bold colours and eclectic design elements that make their hearts sing. They provide tips and encouragement to one another, creating a fun and indispensable experience. These moments appear to be cherished by every member in the team, no wonder we came across comments on some of the finished products saying 'couple' or 'squad goals'.


The Deep Ones - Creators who yearn for depth & love playing with tonal gradients.

Experienced artists and designers may prefer to come to our studio by themselves, taking the time they need to create rugs which reflect their meticulous attention to detail. They carefully select the shades of each colour, making intentional choices to layer to form a cohesive and harmonious composition. This style requires patience and precision, but the results are so worth it.


The Ones Who Know What They Want - If you're already inspired by legendary stories.

Fashion enthusiasts and brand lovers use rug-tufting as a creative way to reflect their personal style. They may recreate iconic logos or designs from their favourite designers, or experiment with colour palettes that showcase their unique taste. Making a rug that pays homage to artisans who they admire becomes an activity that yields a one-of-a-kind piece, where they can put up at home.  


The Young Souls - Embrace the Inner Child in You.

Some rug makers come to our studio to create artwork inspired by their favourite childhood stories or shows. They find joy in bringing their long-forgotten characters to life through this tangible textile creation method.

While the above generalisation of the people encountered are not mutually exclusive, we welcome you to let us know if you've found a fifth type of people in our studio! Do share by tagging us.

All of our tufters quickly get into a nice creative flow at our studio, and most love to post their rugs online after the workshop!  We've had countless lovely conversations with our dear visitors, and are so glad this space acted as a friendly reminder to crafters - to do something about retaining the spark of wonder we treasured growing up. 
Quick links
Contact
tuftinglondon@gmail.com
Tel: 07490193538
Landline: 02077206574
Locations
Nine Elms
Unit A, 10 Hebden Place
London, SW8 2FR
.
Shoreditch Pop-Up
Rich Mix Streetside
35-47 Bethnal Green Road
London E1 6LA