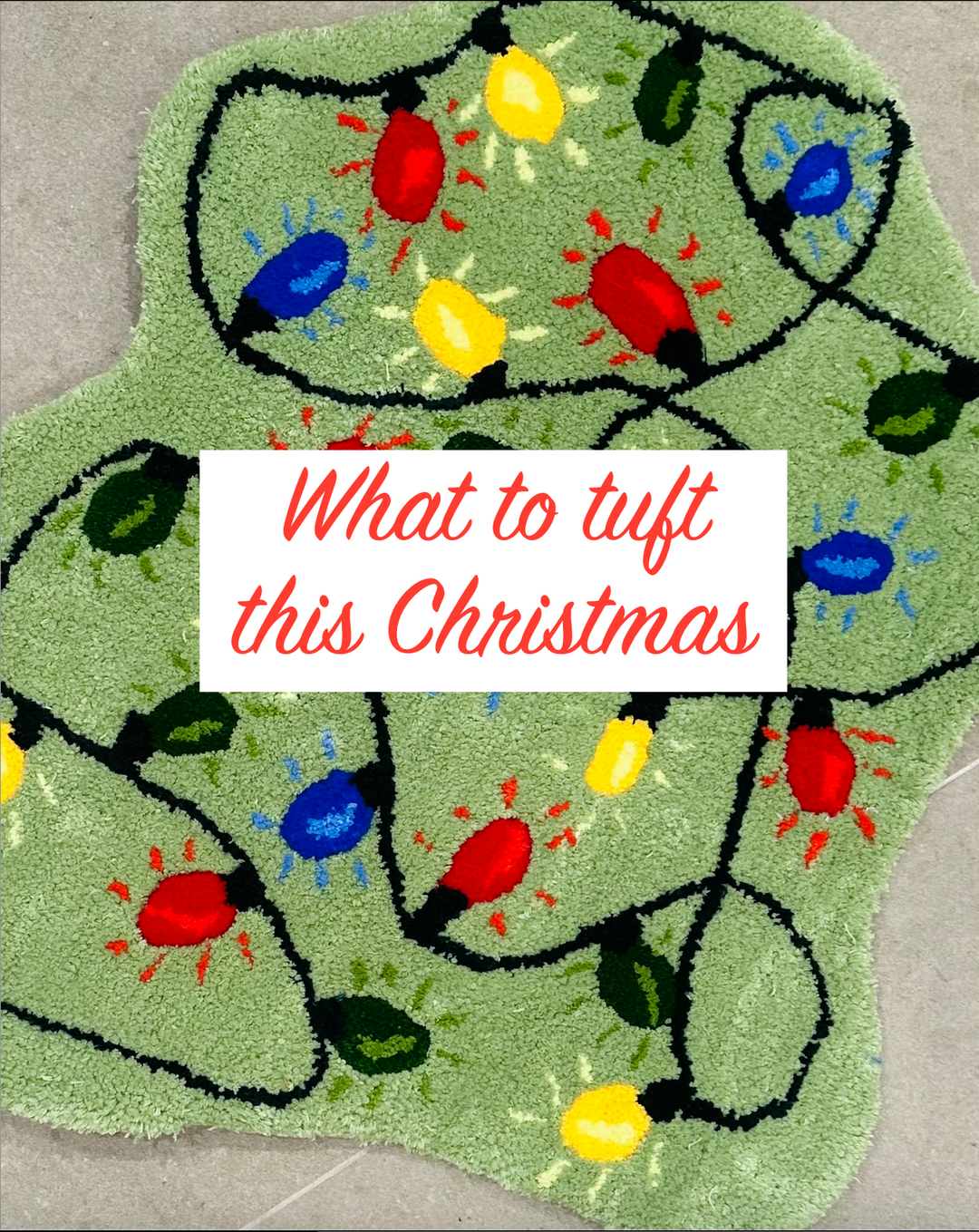 Posted on
---
Whether you're making something for yourself or a gift for someone special, here's a round up of our favourite ideas to create the rug of your dreams. 
1. Something Seasonal
Christmas is around the corner, and what's better than Christmas decorations? The answer is hand tufted Christmas rugs! Make your seasonal decorations unique, like the tufted Christmas wreath we're using at the workshop this year.
2. Your Favourite Character
Rugs are a great way to decorate using your favourite characters, like this amazing Studio Ghibli Cat Bus rug someone made in our workshop last week. Make your own favourite or, for the perfect gift, recreate someone else's!
3. Something Sunny!
Autumn is well and truly here and winter is on the way. If you're feeling a little miserable in the cold and wet, bring a ray of sunshine into your home by making a little holiday in a rug. Gazing at this gorgeous lemony seaside scene, we can almost feel the sun here in the workshop...
4. A piece of art
If you're an art lover, what better thing to tuft than an art piece which will be in your house 24/7? This amazing creation is based on the work of Keith Haring, but you can create anything!
5. Couples rugs
If you want to create a gift for or come tufting with someone special, matching rugs are a really cute thing to do! These guys made the loveliest matching portrait rugs, and we think they're amazing.
6. Bringing the outside in
As it is getting colder, we want to go outside less and less - we'd rather be snuggled up on a comfy rug under a blanket - so by creating a nature based rug, like this amazing koi pond, you can experience the outside in your own living room! 
7. Your Pet
We get loads of people coming in and creating portraits of their pets, and we think it would make the most amazing gift for the dog or cat lover in your life!
8. Your Favourite Food
This amazing peach rug looks good enough to eat. Food rugs are always a great choice!
9. Something Classic
You can't go wrong with a classic, like this simple and stylish orange rug. 
10. Something different!
If you're looking for something a little different, use your imagination and create whatever you can dream up! Here at Tufting London, we can help you make your dreams a reality. 
Quick links
Contact
tuftinglondon@gmail.com
Tel: 07490193538
Landline: 02077206574
Locations
Nine Elms
Unit A, 10 Hebden Place
London, SW8 2FR
.
Shoreditch Pop-Up
Rich Mix Streetside
35-47 Bethnal Green Road
London E1 6LA