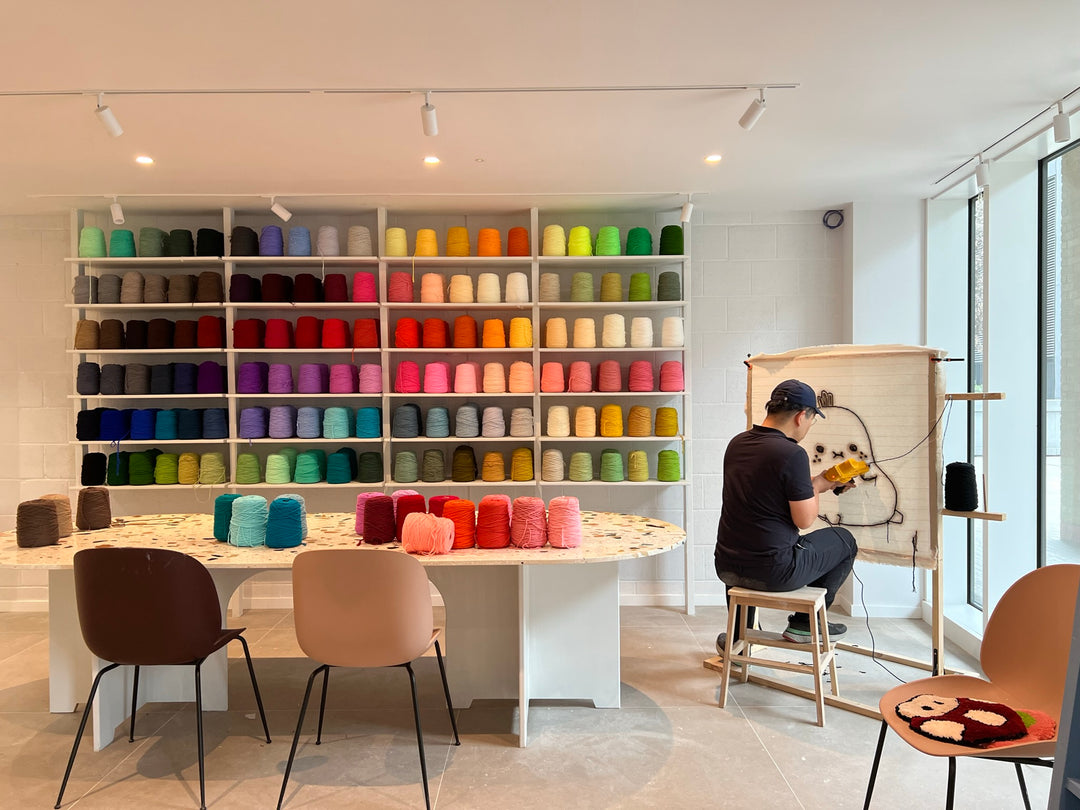 Posted on
---
We thought it was high time you met our founder Chunwei, and learned a little about how and why he got into the wonderful world of tufting!
Photo: This is Chun working on his first ever rug!
Lena: Tell us a bit about yourself!
Chunwei: Hello! I'm Chun and I'm the founder of Tufting London. I've been living in London for 17 years, and I'm a father to two little boys. I started my professional journey by studying MA Furniture Design at Central Saint Martins before creating my first brand, PAPERSELF, in 2010. At PAPERSELF, I work in the fashion and beauty industry - we create unique products such as our patented Paper Lashes and sheer socks, as well as collaborating with artists and designers to create beautiful and delicate temporary tattoos. Our lashes have been worn in the Hunger Games films by Jennifer Lawrence and Elizabeth Banks, as well as by other celebrities like Rihanna! 
Photo credit: Rose Paper Lashes by PAPERSELF
Photo credit: Petals Temporary Tattoo by PAPERSELF
L: Amazing! So when did you start Tufting London? And how did you get into rugs in the first place?
C: Tufting London opened in December 2022. The first time I learned about rugs was when I visited a factory, but I decided I loved handmade rugs when I created my first tufted artwork. I made a rug of my 4 year old son's drawing to hang on the wall in my home. He drew a rainbow racing car, and when I brought the rug home he was smiling truly from the inside out - he couldn't believe his drawing could be turned into a real thing! This is when I saw how exciting tufting could be for people to create their own memories.
Image credit: The 'Rainbow Racing Car' - Chunwei Liao
L: So once you decided to run tufting workshops, what did you do?
C: Well, I realised I prefer to see people make their own things than for me to do it myself in a studio. I'm more interested in how to do it and how to teach it. Before I started the business I bought 10 tufting guns to test them and find the very best - so I committed straight away! I approach everything like this. I found the best materials, and if they didn't sell them I made my own, like all our frames at Tufting London. Eventually, I want to design and make my own tufting gun - but that will be in the future!
L: What was the most important thing you learned?
C: I learned that each tufting gun has its own personality. At the start of the workshop, you need to take 5-10 minutes to make friends with your tufting gun - they are slightly different so you must always adjust. Also, on the first day I tufted, I made three holes! I made them on purpose to see how they could be fixed by the people teaching me.
L: And finally, what would you say is your favourite bit of running workshops here at Tufting London?
C: Seeing people finish their session smiling and leaving with something they are proud to show their friends.
Tufting London in Nine Elms
To see more of PAPERSELF's beautiful products, click here.
Quick links
Contact
tuftinglondon@gmail.com
Tel: 07490193538
Landline: 02077206574
Locations
Nine Elms
Unit A, 10 Hebden Place
London, SW8 2FR
.
Shoreditch Pop-Up
Rich Mix Streetside
35-47 Bethnal Green Road
London E1 6LA